Embattled Ex Delta State Governor James Ibori is said to be taking refuge in the creeks of the Escravos area of Delta State admist unconfirmed reports that the EFCC were preparing to storm his residence in his hometown of Oghara and arrest him at all costs after a previous attempt to arrest him by a joint task force of mobile policemen, Soldiers & EFCC officers failed due to the action of armed miltants who were protecting him.
The Task force which was reported to include an Assistant Inspector General of Police, the State Commissioner of Police and operatives of the Economic and Financial Crimes Commission (EFCC) was led by Deputy Inspector General of Police Ekpodo Udom.
The Task force was said to have come under heavy gunfire from the miltants who had mounted road blocks on the outskirts of Delta state and was forced to withdraw after intense exchanges,
The Police Force Public Relations Officer ACP Emmanuel Ojukwu said a court had ordered the police to arrest Ibori, who has been declared wanted by the EFCC after he failed to respond to it's invitation over an alleged N44 billion fraud and other charges involving his company Ascot Offshore Nigeria Limited, which bought Willbros, an American company in Port Harcourt.
Acting President Goodluck Ordered Ibori's Arrest
Acting President Goodluck Jonathan has reportedly told Inspector General of Police, Ogbonna Onovo, to produce former Delta State Governor, James Ibori, dead or alive,after receiving reports that the Oghara youths prevented policemen from arresting Ibori
A combined team of the Joint Military Task Force and plain clothes policemen is now reported to have moved into the Delta creeks in search of the fleeing ex-governor of Delta State, Chief James Ibori
Ibori Is After My Life
A further twist to the story has been the claims by Chief Edwin Clark a prominent Ijaw leader who previously supported Ibori in his bid to become Govenor of the state in 2004 that the ex- Governor has been behind attempts on his life because of his membership of the Delta State Elders Forum, a pressure group, pushing for Ibori's investigation and prosecution over how he allegedly ran aground the Delta State treasury between 2004 and 2007 including his alleged unauthorized and illegal sales of 520million shares of Delta State in Oceanic Bank.
He said the shares were sold to service the N44billion loan allegedly obtained from Intercontinental Bank by Ibori's company, Clark also claimed that he never knew that the former governor was convicted overseas for criminal offences, including stealing, both in 1991 and 1993.
Meanwhile there have been calls from several prominent Nigerians for Ibori should come out of hiding and defend himself before the EFCC to save himself from further humiliation. and prove his claims that he is innocent.
In response lawyers for the ex Governor had filed suit against the Economic and Financial Crimes Commission at the Federal High Court, Asaba, Delta State, asking for N10 billion in damages, for alleged "libel, unlawful harassment and twisted falsehood" by the anti-graft agency.
Ibori, in his lawsuit also sought an order restraining the EFCC from further publishing or causing to be published, any libellous publication against him. Meanwhile Supporters of Ibori have accused the EFCC of disregarding a previous court ruling regarding the Ibori case and helping to conduct a political witchhunt against him.
As this Saga continues the most recent news is that Mr Ibori's application was rejected yesterday by the high court in Asaba.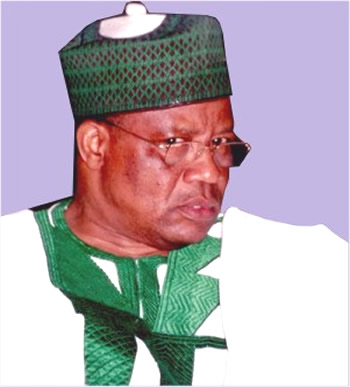 Babangida Plots Return to Power in 2011
Former military president,and self styled evil genius General Ibrahim Babangida, said yesterday that there were certain things he did in office 17 years ago that he wanted to do again by contesting in 2011.
Babangida who has already thrown his hat into the ring for the forthcoming presidential election Spoke with journalists after attending the wedding of the daughteer of Globacom Chairman Dr. Mike Adenuga (Jnr).
Responding to questions regarding his previous tenure at Aso Rock"'Seventeen years ago, he said when I left Aso Rock, I Ieft so many things that I think I should go and bring back. I left for example, the value of Naira, I left, again for example stable price of fuel. "I also left a whole lot of reforms, and I need to go back and get them back. So there are lot of things that I left behind that I want to go and pick up for the benefit of ordinary Nigerians."
He also said by accepting responsibility for the annulment of June 12, he has already apologised to Nigerians.
Reminded that he has been asked to tender public apology over the annulment, he responded: "I want the definition of public apology. I already said I accept full responsibility." "Here I am - I conducted the best election and I annulled it.
A leader, must be respected for taking responsibility for anything good or bad. As a leader I accepted it. Every leader makes mistake, I am not an exception," he said.
Nigerians have always asked IBB why he annulled the freest and fairest election ever conducted in this country and demanded an apology from him for annulling the election. Apart from June 12, IBB also said he is conscious of the usual allegations against him, telling journalists that,"You would talk about June 12, you would talk about $12.4 billion, which "I stole"; they would talk about Dele Giwa; they will always talk about the negative ones."
Then, he said: "Anybody who is a follower of events in the country with a little common sense would know that the money that accrued to the Federal Government then in eight years was $12.4 billion, and not Gulf oil wind fall. "Please get the issue correct because windfall is the money you never expected. So the money was the money that accrued to the Federal Government and the money was properly used to meet the demands of the government as at that time.
Agreed, there was an interregnum period of Gulf war in Iran. So, there was an additional grant of $1.4 billion. So we did not indict the government of that time, so those issues are matters of opinion, the money should have been sent to the reserves, but I said no, as I don't like keeping money, because there are things I want to do. so what do we do? And those projects were itemised, they are there, they are verifiable, you could see it, you could feel it.
It seems like it's a case of Deja Vu as the usual masquerades come out to dance in the Square Babangida, Atiku,Obansanjo... God help Nigeria in 2011