Nigerian President Yar'Adua has now been missing from the country for more than a month whilst receiving treatment in a hospital in Saudi Arabia for a heart condition, The 58 year old was flown to a clinic in Jeddah on Nov. 23 after complaining of chest pains and has been diagnosed with acute pericarditis, an inflammation of the membrane around the heart that restricts its action. lack of updates on his condition has fuelled speculation about the gravity of his illness in the Nigerian media.
There have been several rumours of infighting and joustling for power within the top echelons of government and ruling party the PDP and while the Imams continue to offer prayers for his swift recovery the big question on many lips is whether he will ever be fit enough to rule the country.
Yar'dua has travelled to Saudi Arabia in the past to seek treatment for a chronic kidney problem,and his health has been a source of concern even before he assumed the presidency raising questions particularly among his opponents about his ability to stand for a second term in 2011. He has not yet confirmed whether he plans to stand again in 2011 when Presidential elections are due but key figures in the ruling party have pledged support if he decides to do so.
Meanwhile In the President's absence Vice President Jonathan Goodluck has been presiding over cabinet meetings. But executive powers have not officially been transferred, leading to questions over the legality of government decisions.Recently several senior politicians and the Bar Association have tried to bring about action to try and compel Yar'Adua to temporarily handover power or even step down.
The government has said Yar'Adua can exercise his presidential powers from anywhere and that contact is bieng made on issues that require his approval.
Political analysts have warned Nigeria is on the brink of a constitutional crisis, and an ex U.S envoy has stated that Nigeria is now in danger of Military intervention if the situation continues to drift and deteriorate. most analysts see the chance of military intervention as slim. But with issues needing the attention of an authoritative head of state piling up, clarity over who is really in charge needs to come soon, many road side analysts in Nigeria will be quick to point out that the president has never really come accross as having much authourity anyway since he assumed power.
Notwithstanding the swipes and jibes about the personal effectiveness of the ailing president a serious crisis seems to be fast developing as several issues and developments come to a head the recent failed terrorist bomb attempt by the young Nigerian Umar Farouk Abdulmutalib have firmly focussed international spotlight once again on Nigeria for all the wrong reasons putting more pressure on the president to prove he is fit to rulel or hand over power.
Umar Farouk Abdulmutalib Spotlight on Nigeria for all the wrong reasons

Government critics have also warned of a crisis in the Judiciary with the country's Chief Justice due to retire in three day and only the president able to name a sucessor.
Militants in the Niger Delta have claimed responsibiliy for a new attack on a major pipeline because they have claimed that the
Presidents absence has delayed peace talks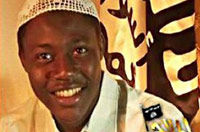 And on Monday, soldiers and police clashed with members of an Islamic sect in the northern city of Bauchi, killing at least eight people and highlighting the country's volatility as it approaches national elections in 2011.
Under the terms of the constitution, Yar'Adua could sign a letter to the heads of the two chambers of parliament saying he is temporarily transferring powers to Jonathan. Should he become permanently unable to govern, Jonathan would take over.
There would then be fierce competition within the ruling People's Democratic Party (PDP) for the position of vice president to replace Jonathan, as his deputy would be the de facto PDP presidential candidate in polls in 2011.
Jonathan, a southerner, is unlikely to stand in 2011 because of an unwritten agreement among the political elite that the presidency rotates between the north and south every two terms
Ruling From A Sick Bed
A presidency source told Reuters on Tuesday Yar'Adua had for the first time since being admitted to hospital been able to a government bill, Presidential spokesman Olusegun Adeniyi says an official flew the paperwork for the $2.53 billion spending bill to the Jeddah hospital where Yar'Adua was admitted on Nov. 24. Adeniyi says Yar'Adua signed the bill himself. 'Trust our politicians to priotise a bill for more spending and push it through at all costs.'
Yar'adua Recovering And In Good Health
A spokesman for the hospital at which has been staying has recently stated that the President is in good health and may even perform a pilgrimage to Mecca."He may well leave tomorrow to perform a pilgrimage to Mecca," the spokesman said.
In the Meantime I think we will just have to wait and see what the new year brings as the drama continues to unfold.