Davido- Dami Duro ft Akon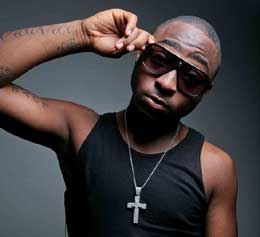 The Niaja Music scene is seriously in overdrive It moves fast and will always throw up a new superbad superstar sooner than later.

So If you're into the likes of Psquare, Dbanj or Wiz kid then you've probably already heard of Davido. If not take note there's a New Kid on the block, Dubbed the Justin Beiber of the nigerian music industry Fast rising artist and face of MTN Pulse, Davido, has collaborated with Konvict Music boss Akon, to remix his new single 'Dami Duro' whch has become a monster hit
and as Akon continues to do what he does best the hits just keep on coming this time on This collab with Davido to drop another super Naija joint. check it out now and if you don't quite understand those catchy lyrics They roughly translate to "Im a rich Man's Kid and I aint stopping For no one, On De beat is Davido and i'm drivin all the girls crazy O, Na Na Na....."
And is it a good thing to use your dads wealth to promote your music career?, if you're as good as davido and can produce a super hit like this then the answer is definitely yes-Na Na Na---
This is a Blood FIYA Track!!! Download it now
Expect more materia from Davido and his HKN crew through the last quarter of the year.
Links:
Davido on facebook
Follow Davido on Twitter
Davido on Youtube
watch Canadian Girl Sing Dami Duro

Material hits out with 16 Bars !!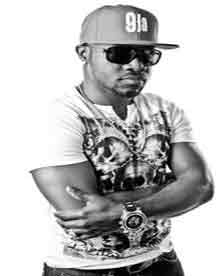 Yes it that man Material back to launch his superslick Album the 'Da Undisputed Mixtape Vol 1' which includes some very strong tracks such as the hard hitting rap Single '16 bars' which just does my head in everytime I hear it' features talented Naija rappers DL and AY.
Prolific as an artist, 'Material' is nicknamed 'Elegbeje ado' a yoruba word meaning a man with many charms. which in his case refers to his many talents overwhelmingly evident as he once again shows his lyrical prowess on this Album.
Apart from '16 Bars' tracks like 'YiwonSoun' and Owo epo have received massive airplay and are hot on the naija Music scene.
Material will be LIVE!! on stage at the Nigeria @ 50 Independence celebration. Venue: Newham Town Hall, Barking Road E6 2RP.Time: 6PM to 12pm

Links:
official Website
Material on Youtube

Jaywon Gbon Gbon Gbon ft Terry G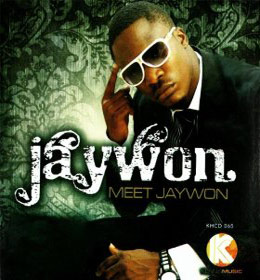 Another Hot production from Nigerian Music Mogul Kennis Music this track is ruling the Airwaves As Jaywon shows his skills in another collaboration with Terry G. If you had nt heard Jaywon on his hit File'be then check this joint out
Bad track.Jaywon's full Album is available on Itunes

Links
Kennis Music
Download Jaywon on itunes tt


Wiz Kidd FT fLOSS rIDING high in the Charts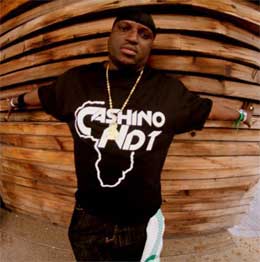 If you have a passion for hiphop and want to sample the best of the Naija scene then look no further, Cashino Ndt is a true ground breaker in style and smooth lyrical delivery,NDT which stands for Nigerian Dream Team is made up of Ca$hino , DBlack & SD (Dj) with affiliates like Paragon, Modenine, Dil of Blaq Money.
The UK based group have been around since the late 90's and have a huge following in Europe,Africa and the U.S and have received heavy airplay on local and pirate radio station in the UK France and Germany.
I have to admit I'm extremely partial to these guys and can never stop playing their tracks - If you want to know what I'm talking about then checkout the hit track Number One.
Links:
Cashino on Facebook
Cashino on Youtube
Cashino Official Website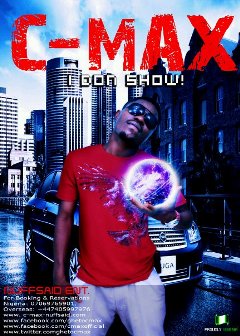 Yep it's the man himself C-Max is back after coming out strong last year 2010 with hit tracks from his album 'My Campaign'.

He drops his first single of 2011,
Titled "I Don Show" an exciting love song with strong hip hop beats and a kinda soulful feel, superbly produced by his label NuffSaid Entertainment, he shows us what he can do as he sings his heart out. This track has all the makings of a smash hit this summer and I'm sure there's more to come and I'll be eagerly looking forward to the video and launch of his album later this year.

Be the first to hear the track by clicking on the link below
Links: Nuffsaid Entertainment Website
C-Max on Myspace
Play/Download My CampaignMp3
C-Max on facebook


Naeto C - Super C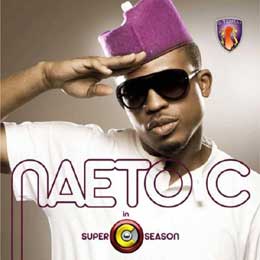 Neato C been around for a while, and huge tracks like & 'Kini big deal I'm on Fire' & 'Ako Mi Ti Poju' definitely put him on the African music world map, he has won major music awards such as the HHWA best HipHop Single 2009 SoundCity best male video 2009 and MTV best new act, along with extensive play on major Radio and TV Stations.

He recently opened the show for American singer, RKelly at the This Day music festival in Suncity South Africa and was also a judge on Emcee Africa 2009 edition in Botswana. Naeto C is definitely on fire and his latest album and title track Super C Season will not disappoint his army of fans with more upbeat hip hop beats and Naeto C spitting slick lyrics,, Kini Big deal the man's done it again.
Links:
Naeto C on Facebook
Naeto C on Youtube
Official Websiteaa
Super C Season on Itunes aa

Mr Flint Ft Eldrino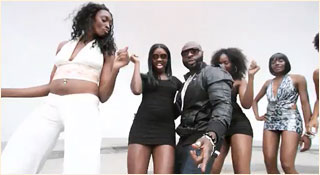 This Guy is known as The Naija Diddy - Check out his super video to find out why.
American based Nigerian entertainer Lee "aka" Mr. Flint (Lee Majorz) or as he was introduced on his new single
"Bami jo" the "Nigerian Diddy" is one of the few stars shining from Africa who
Represent the physically challenged.

This star is confined to a wheelchair due to
a motor vehicle accident in the late 90s.
Refusing to be held back by his Handicapp Mr Flint forged on with is music career against all odds to drop his latest single Bami jo Featuring Edrino the Don a long time friend and fellow musician.
The track has so far received much acclaim and airplay for the star who has set up a foundation for the disabled and handicapped in Nigeria he now regularly travels between the U.S.A and nigeria bringing out the best of both worlds with his music and charity work.
Links:
Mr Flint on Youtube

Who is Squeeze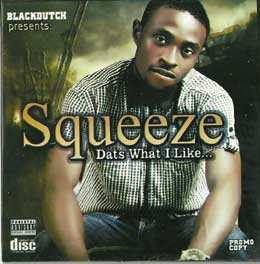 Ever heard of Naija Dancehall then meet this guy Squeeze real name Henry Ekaye an Ijaw from the Delta rive area of Nigeria ever restless and on the go Squeeze has been crafting his music for the past 6 years, and has come up with an entertaining blend of dancehall/Reggae on his Debut Album.

Currently studying as a final year student at the University of Benin, he has spent time actively recording songs and taking part in competitions.

His first song was titled "i rhyme right" and produced by T-money. his genre of music at the time was hihop with a blend of ragga
He took part in the 2007 glo campus tour uniben & came out second, sticking to his grind the following year 2008 he released a single "Shine shine bobo" produced by DIRE which rocked the air waves but not enough to get him a deal as he hoped.

he then joined forces with the hot producer RATYBONE to produce several great tracks like no night, my time, definition of squeeze and many others.Several collaborations and constant work with top Nigerian Producers enabled him to perfect his Ragga skills and drop his debut album in tandem with Blackdutch Inc Productions. with the title track 'Dat What I Like' with a superbly produced video this track has taken the Niaja Music scene by storm'
Squeeze draws his influences from the likes of sizzla,buju banton, WyClef, Fugees, Anthony hamilton and beanie man.