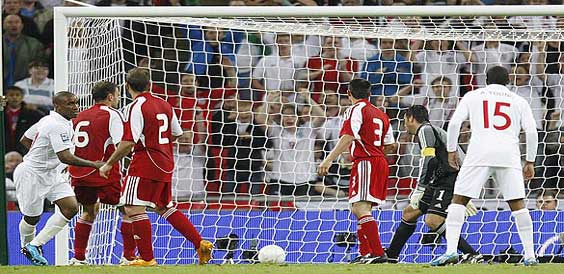 Fabio Capello saluted the spirit among his squad that has taken England to the brink of the World Cup following Wednesday night's victory over Andorra at Wembley.
The 6-0 win over the pathetically weak visitors means Capello's men maintained their 100% record in Group Six and hold a 10-point lead with three matches left. "We have created a group. This is important, the spirit of the group. We always play to win," the England boss said. "You have to win another game to be sure of going to South Africa."
We started very strongly, we pressed and created two chances before Rooney's first goal," Capello said."Always when you play against a team that is not strong you have to play quickly, press and win back the ball. We did this. "We started not so well against Andorra in our last match. We didn't score before half-time. But step by step we have moved on and improved. We created a group and a different style on the pitch. After every game we improved."
Frank Lampard hit the second before Rooney added another, taking him level with Geoff Hurst's 24 goals for England. Rooney also equalled Tommy Taylor's record of eight competitive goals in a season but was denied a chance to establish a new benchmark as Capello took him off at half-time.
Portsmouth full-back Johnson did not score but got the man-of-the-match award for his assists."I think the confidence is really important with a player like Glen Johnson for the national team," Capello said. "It's important for me, the club he plays for and us that he improved a lot."
No silly dance from Crouchie, but England are waltzing all the way to the finals.
England: Green, Johnson, Lescott, Terry, Ashley Cole, Walcott, Beckham, Lampard, Gerrard, Rooney, Crouch. Subs: Robinson, Neville, Bridge, Young, Wright-Phillips, Defoe, Carlton Cole.
Andorra: Alvarez, Ayala, Ildefons Lima, Sonejee, Antoni Lima, Txema Garcia, Jimenez, Andorra, Vieira, Moreno, Silva. Subs: Fernandez, Gomez, Escura, Moreira, Rodriguez, Genis Garcia, Vales.
Referee: Hendrikus Nijhuis (Netherlands)